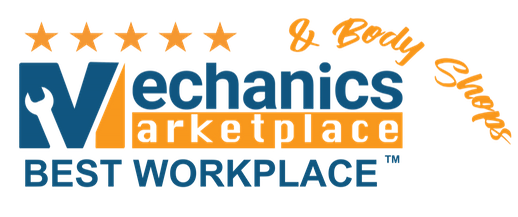 The Mechanics Marketplace Best Workplace™ program was created as a standard of excellence to distinguish and recognize automotive businesses that go out of their ways to create a rewarding work environment for their employees and maintain a strong reputation in their communities. We are proud to be named The Mechanics Marketplace Best Workplace certification!
About Spain's Service Center in North Lewisburg, OH
If you're looking for a local mechanic you can trust, consider Spain's Service Center. Since 1976, we've been providing our friends and neighbors in North Lewisburg, Minnesota, Marysville, Ohio, Champaign/Union/Logan, Ohio, and the entire Champaign area with dependable, trustworthy auto repairs. Whether your vehicle needs Brake Repair service or Body and Collision work, our service mechanics are skilled at diagnosing and pinpointing solutions to problems, which can save you valuable time and money.
Commitment to Customer Satisfaction
At Spain's Service Center, our number-one goal is complete customer satisfaction. Every day, with every customer, we focus on providing high-quality auto repairs coupled with top-notch service. With countless five-star reviews, we are proud of our reputation as one of the North Lewisburg area's most trustworthy auto repair shops.
A True Alternative to the Dealer
Looking for an affordable alternative to the high prices at your local dealership? Spain's Service Center can help. Supported by a team of ASE-Certified mechanics who receive ongoing training in automotive technology and auto repair services, we can offer you dealership-quality knowledge and experience without dealership prices. If you're in North Lewisburg, or surrounding areas like North Lewisburg, Ohio, or West Liberty, Ohio, stop by and experience the Spain's Service Center difference.
Cutting-Edge Technology in North Lewisburg to Keep You Moving
Our team stays current on the latest automotive technology, utilizing professional, hands-on experience working with many vehicle types. We use the most current diagnostic equipment available, allowing us to quickly uncover the problem and begin working on the solution. Combining cutting-edge technology with real-world experience, it's our mission to get your car back on the road in less time than it takes other shops to figure out what's wrong!
Contact Us We're Here to Help!
We invite you to give us a call at 937-747-2570 or to take a look around our website and learn more about what we do. Read the testimonials and reviews from some of our happy customers, or find out more information on our specialties. Call or email us to inquire about how we can help with your specific automobile concern. And if you're in the North Lewisburg or Champaign area, feel free to stop by the shop and say hello, even if you aren't currently in need of auto repair or maintenance services. We'd be delighted to introduce ourselves, show you around the facility, and answer any questions about our business and our services.
We have built an extraordinary team at our independent automobile and light-duty diesel service center located in North Lewisburg. We offer a full line-up of both foreign and domestic automobile and light-duty diesel maintenance, repair, products, and services. Spain's Service Center's service consultants and automobile mechanics are committed to providing our customers with friendly service, quality repairs, affordable pricing, and great amenities. Our state-of-the-art facilities allow us to perform high-quality, worry-free repairs, no matter what your vehicle maintenance needs.
We specialize in Light Duty Diesel Truck Repair – Ford Super Duty, Chevy Duramax, and Dodge Cummins. We also provide Commercial Services including routine fleet maintenance with priority appointments and DOT inspections. With many years in the industry, our team of professional service consultants and automotive mechanics will provide you with trustworthy maintenance recommendations and exceptional service and repair. We are also Bosch and ASE Certified, so you can be assured our complete auto care center will get the job done right the first time.